Seriously, how did we get to August already? That definitely took me by surprise yesterday when one of my staff members told me that July was almost over! Even more than that, I can't believe I'm finishing up my fourth week of summer camp today. This week has been my favorite so far; it was an all-girls week. These 18 girls are unbelievable and SO. MUCH. FUN. You've probably seen way too many Instagram photos and videos of the fun we [yes, even the coaches are having the best week ever haha] are having!
Here are my favorite photos from the summer so far, the first four are from this week's Girls Week.
The whole group!
My little group for the week
Putting pool is our favorite game ever!
Our 5 and 6 year old campers - how cute are they???
Playing whiffle golf - aka kickball but hitting whiffle balls with golf clubs
On another note, I thought I'd share with you
a fun challenge
I will be participating in throughout this month. I recently joined the North East Blogger Network, and they are hosting this month-long challenge! Today's question is, "Who are you?" Well, I would have to say that "Coach Meghan" is who I am right now, so this post is pretty fitting :)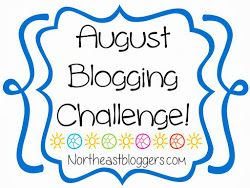 Also, NE Bloggers are having their first meet up this month that I'm hoping to attend, so
check that out here
if you are in the area!