Happy Good Friday! I hope many of you are able to start your holiday weekend early with a day off today! We are unsure of our plans, but there will definitely be a few Easter goodies involved. I gave up sweets/dessert for Lent, so I am just dreaming of that Reese's egg on Easter morning! Today, I've rounded up a items for your last-minute Easter basket because, well...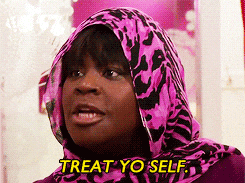 One of my favorite small businesses,
Megan from Home Sweet College Home
shared a great blog post with the
five essentials for any Easter basket
: something useful, something nostalgic, something sentimental, something tasty, and something decorative. I definitely used this as my inspiration and have a little of all five below. The best thing about all of these items are that they are from Target, and I am obsessed with Target's "Order Pickup" option. They'll do the shopping in-store for you, and you just pick everything up at customer service!
useful -
Whenever I give an Easter basket, I love to put it in something the person can use again. No exception for my own basket. I would love one of these
fruit baskets
for my kitchen, but this
laundry basket
and this
storage cube
are really cute, too. If you don't need a basket, how about some adorable
dish towels from Hearth & Home
?!
nostalgic -
Okay, so I know there is also a "tasty" category, but I also had to start with candy here. I can still remember
Reese's Eggs
sitting in my nona and papa's candy dish when I was younger, and
Chicks, Ducks, and Bunnies
bring me back to thinking I was smart buying half price candy after Easter to bring to all of my golf teammates. Last but not least, this is the perfect category for a little
egg decorating
, too.
sentimental
- I struggled with this category a little, but who doesn't love seeing their photos. This
photo frame with the wooden clips is great
! Or, if you're looking for something to make you smile and keep you moving, I love this
motivational print
!
tasty
- Alright, now this is the category y'all were waiting for. Oh, the Easter candy! Giving up sweets for Lent wasn't honestly as bad as I imagined it would be, but oh boy, I can't wait for Sunday. Ever since I wrote
this post with M&Ms
, I have had a bags of
M&Ms caramel
sitting in my dining room, and it has taken so. much. self. control. Other favorites of mine are
robin's eggs
,
Sour Patch bunnies
,
Dove eggs
,
York eggs
, and
Peeps
. Even if you aren't a Peeps fan,
they make great s'mores
! Also, if you buy one of everything, you can make a delicious
Easter candy milkshake like I did last year
!
decorative
- Spring decor is some of my favorite (maybe it's my love affair with pink - haha!). I love this
cross
, these
nesting eggs
, this
bunny pillow
, this
egg wreath
, and this
flower garland
, which would be perfect all spring long.
And if you need any more Easter inspiration, you can
click here to check out my whole Easter craft and recipe round-up
! I hope everyone has a great weekend!