This shop has been compensated by Collective Bias, Inc. and its advertiser, Mars Wrigley Confectionery US, LLC. All opinions are mine alone. #SweeterEaster #CollectiveBias
Easter was always my favorite holiday growing up! Don't get me wrong, I love Christmas and my birthday, but looking all over the house for eggs was just so much fun on Easter morning. My mom would always leave an empty Easter basket on the coffee table and let me search high and low for eggs all morning. Truth be told, there were a few years where we'd find plastic eggs in crazy places like the back of the utensil drawer and in a glass in the cupboard months after Easter.
The real reason I always loved Easter wasn't just for the candy eggs but also because it's my unofficial start of spring! Growing up in New England, Easter was the first holiday where I could wear a pretty new floral dress and spend time outside. Easter still says "spring is here" to me, and I love sharing this holiday with my friends and family. This year, I put together a kitchen-themed Easter basket to gift to my neighbors. It has some of my absolute favorite baking tools and accessories, as well as some of my favorite Mars candies, and I'm so excited to show you how to put together one of your own - let's hop to it!
1. I love to start with a basket that can be used again. We all have a ton of those colorful, woven Easter baskets that we can bring out once each year, but when gifting, I love to pack in something versatile. To go with my kitchen theme, I chose this metal utensil holder. I love reusing these for picnics and summer parties, plus it looks great in the kitchen.
2. To go in the basket, I chose a variety of spring-themed and colorful kitchen essentials: cookie cutters, sprinkles, cupcake liners, dish towels, straws, and kitchen utensils (whisk, spatula, and scraper).
3. After layering all of the kitchen items into the basket, it's time to add the most important items of any Easter basket: candy! In addition to finding all of my kitchen and baking essentials at Walmart, I also purchased some Easter treats:
DOVE® Solid Milk Chocolate Bunny, M&M'S® Caramel Laydown Bag, and STARBURST® Original Jellybeans Laydown Bag
.
Ready to shop for some Mars chocolates? Hover over the photo below to click through to walmart.com to purchase!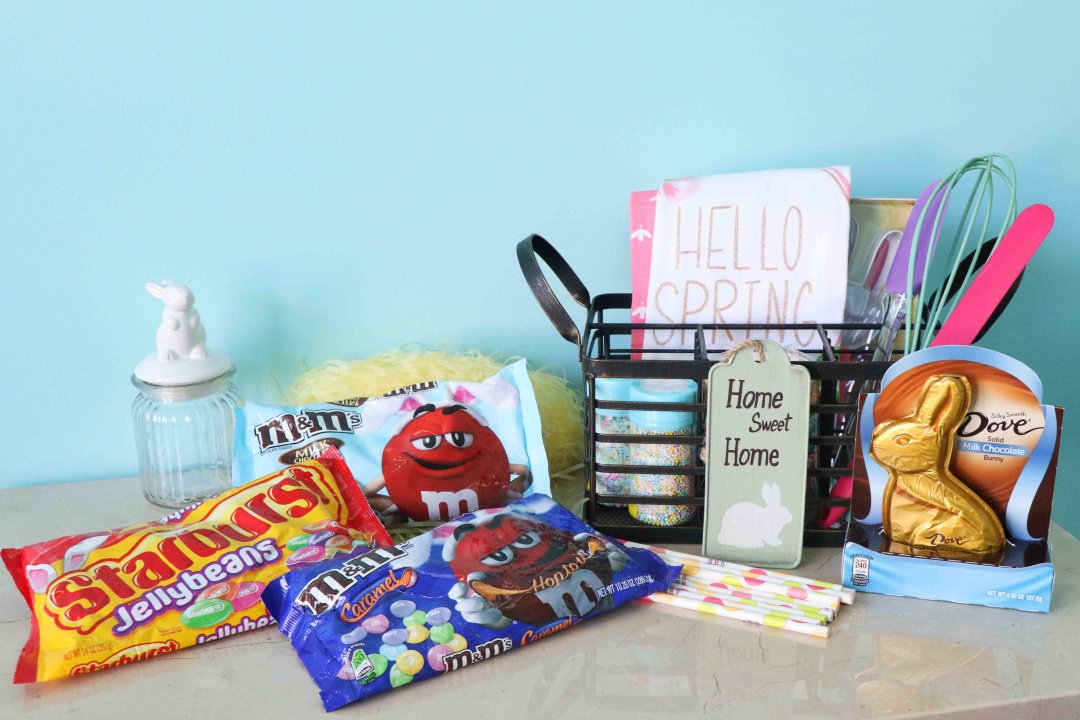 4. In addition to sharing whole bags of candy with my neighbors, I also bought this adorable bunny jar for some of the M&M'S® candies. Sharing these candies out of the bag made the basket even ore colorful!
And now my basket is ready to deliver to our neighbors! I love the combination of useful items and something sweet in the basket. The STARBURST® Jellybeans and M&M'S® candies are perfect to enjoy on Easter as a treat, mixed into delicious baked goods, or to decorate your favorite cookies!
How will you be celebrating Easter this year? What's your favorite part of an Easter basket?