This shop has been compensated by Collective Bias, Inc. and its advertiser, Emergen-C®. All opinions are mine alone. #FallImmuneSupport #CollectiveBias
The sights and smells of late fall are my absolute favorite. Weekend afternoons in these cooler months spent relaxing outside on the porch swing or watching television are the best. While many people have been thinking "pumpkin" this time of year, apple is my go-to autumn flavor. It reminds me of going to the orchard when we lived in New England and sipping on warm cider.
Even though it's a little warmer in South Carolina, I still love making a batch of hot cider on the weekends. Using a slow cooker, the spiced cider-making process isn't only easier, it's also so fragrant throughout our home all day.
To transform my cider and support my wellness goals, I made an apple and orange cider drink with the addition of Emergen-C® Super Orange. Emergen-C® Super Orange is packed with Vitamin C plus other key antioxidants such as zinc and manganese to support your immune system along with B Vitamins to enhance energy naturally.*
Emergen-C®
dietary supplements are the delicious way to start your day and are recommended only for consumption by adults.
Ingredients:
- 1 gallon fresh apple cider
- 1 sliced orange
- 1 sliced lemon
- 5 cinnamon sticks
- 1 teaspoon nutmeg
- 1 teaspoon ground cloves
- Emergen-C® Super Orange
Directions:
1. Pour one gallon of cider into your slowcooker along with the sliced orange, sliced lemon, and spices.
2. Set the slowcooker to low and cook for 3 hours, stirring every hour or so.
3. After 6 hours, turn the slowcooker to the "keep warm" setting.
4. Ladle 6 ounces of warm, spiced cider into a mug.
5. Pour in one packet (0.32 ounces) of Emergen-C® Super Orange and stir until it dissolves.
6. Garnish your vitamin drink with a cinnamon stick, apple slice, or orange slice.
While at Walmart, I not only picked up the Emergen-C® Super Orange to use in my recipe but also purchased Emergen-C® Energy+ Blueberry-Açai and Emergen-C Immune+® Gummies Orange. To shop all of these products, use the clickable image below.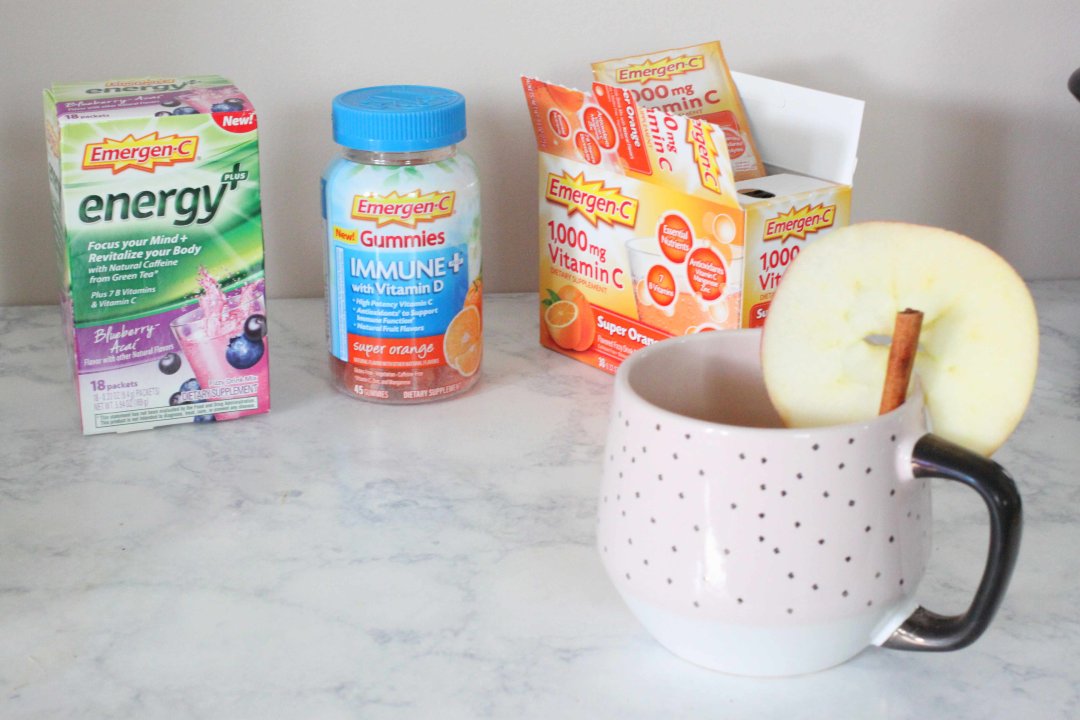 Emergen-C® Energy+, available in bold-flavored Blueberry-Açai, powder-packed Lemon-Lime, and fruit-y Mango-Peach, is flavored with natural, real fruit flavors. It's also gluten free. Just by adding water, you can create a refreshing, fizzy, vitamin drink mix.
Your favorite fizzy flavors, now in a yummy new form! Emergen-C Immune+® Gummies support your immune system with Vitamin C and Vitamin D, support your energy with B Vitamins,* and are made with natural fruit flavors. No water needed! Bursting with fruit-y deliciousness, chew your way through Emergen-C Immune+® Orange & Raspberry Gummies to support your immune system with Vitamin C and Vitamin D.*
What's your favorite fall beverage?
*This statement has not been evaluated by the Food and Drug Administration. This product is not intended to diagnose, treat, cure or prevent any disease.