Hey everyone, I'm soooo excited - I was chosen as this week's Mystery Host!!! The Walkabout was the very first link up I ever joined, and I found almost every one of my best bloggy friends through this group. Thank you Jane, Jamie, Chantal, and Sarah!!
How did I [read: my roommate] celebrate this awesomeness??
She made Kristin's Cake Batter Rice Krispy Treats!!!
If you haven't tried these, you need to! They even have cream cheese frosting in them.
Now onto the Walkabout!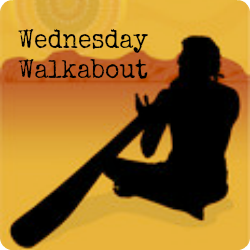 What is a Walkabout? It's a blog link-up party, every week here and with our co-hosts! Simply put your blog address or a specific post in the linky, visit some other people, and make some friends. Easy at that! I can't wait to talk to everyone!
PS: You only have to link up with ONE of the co-hosts!
The Rules:
1. Please follow at least ONE hostess, and let us know you're a new follower and how to follow you! To be entered as next week's Mystery Host, follow all hosts from this week.
Mystery Host Meg- Borrowed Heaven
2. Try to visit 3-4 blogs that interest you. Take some time and let them know where you came from.
3. Grab the button and spread the word! (Not required, but just cool if you do). The more, the merrier.