This shop has been compensated by Collective Bias, Inc. and its advertiser. All opinions are mine alone. #StockUpWithPost #CerealAnytime #CollectiveBias
Over the top milkshakes are my favorite right now. Yup, I'm officially on that bandwagon. Especially since it's the middle of the summer, who doesn't want something cold and delicious for dessert? This one is all about breakfast for dessert... or could it be dessert for breakfast?! I'm not here to judge!
I chose the colorful Malt-O-Meal Marshmallow Mateys® for this dessert concoction. How cute are these pieces? I love the anchor-shaped frosted whole grain oats and little dolphin and fish marshmallows.
To make your own shake, you will need:
- Malt-O-Meal Marshmallow Mateys®, separated into frosted oat pieces and marshmallow pieces
- vanilla ice cream
- milk
- cream cheese frosting
- food coloring (optional)
- whipped cream
- maraschino cherries
Directions:
1. In a blender, combine 3 large scoops of ice cream, 1 cup of milk, 1/2 cup Marshmallow Mateys® marshmallows, 1/4 cup cream cheese frosting, and a few drops of your favorite food coloring (if you choose).
2. Blend it up!
3. While you're waiting, spread more cream cheese frosting on the rim of a mason jar.
4. Cover the rim with Marshmallow Mateys® oats and marshmallow pieces.
5. Pour the shake into your glass, top with whipped cream, a cherry, and enjoy!
Bagged Malt-O-Meal cereal comes in more than 30 flavors in a variety of sizes to fit your family, including Peanut Butter Cups, and
Post
has even more cereals that would all make delicious shakes. How good would a strawberries and cream shake be with Honey Bunches of Oats® with Real Strawberries or a chocolatey, marshmallow-filled shake with HONEY MAID® S'mores? You can purchase all of your favorite
Post
cereals at Walmart.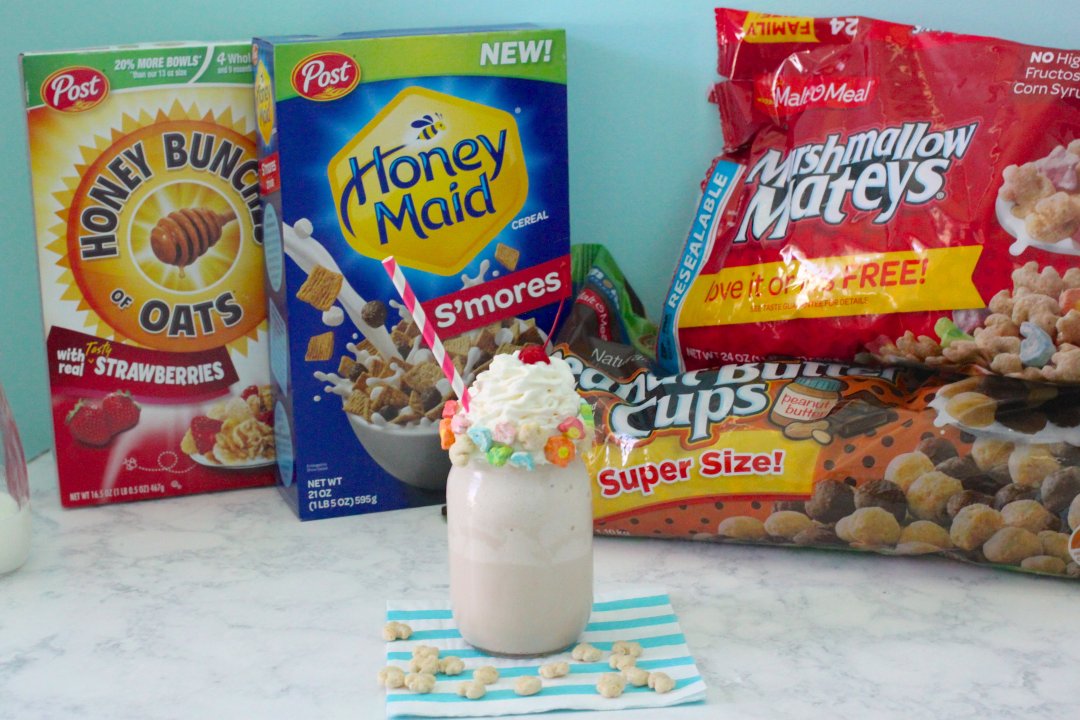 You can try one of Post's newest Shredded Wheat additions and earn $1 cashback with this
Ibotta offer
. Earn $1 or $.25 cashback when you purchase some of Post newest additions with these ibotta offers.
Make sure to check out more exciting offers for other Post cereal varieties like Shredded Wheat!
Now doesn't this look delicious? Indulge yourself a little this week and make one of these delicious and easy shakes for yourself! You can get even more inspiration on the
Post Pinterest page
!