I have received information and materials from ©Johnson & Johnson Consumer Inc. 2017. The opinions stated are my own. This is a sponsored post. #ForBetterTomorrows #BetterTomorrows #FallBack #CollectiveBias
Who else gets absolutely thrown off by the time change every spring and every fall? For me, the "fall back" is especially terrible because I hate how dark it gets early in the afternoon. There's barely any time to get anything done outside, and it's important not to waste those precious daylight hours because of a bad night's sleep caused by pain.
Right now, we're also back into another kickball season, and I've had my fair share of aches and pains over the last few weeks. (I swear, it gets worse as it gets colder!) I even had a collision with the opposing first baseman two weeks ago, and you know that left a mark. Plus, after each game, with so much excitement, I come home absolutely wired and can have a lot of trouble getting to sleep.
Here's where
TYLENOL® PM
comes in. Not only does it relieve my minor aches and pains from a well-fought kickball game, but it also helps me fall asleep. When I created my
30 Before 30
last month for my birthday, two of the top items were staying in shape and getting enough sleep. With
TYLENOL® PM
, I can do both by playing the sports I want, getting my zzzzs, and walking up the next morning, feeling refreshed and ready.
When I don't get enough sleep, breakfast is always the first thing that gets lost and forgotten. There are days when I don't have anything besides water before lunch time because I hit that snooze button a few times too many. But now, with
TYLENOL® PM
used as directed, I can start making time for breakfast every day. Right now, one of my favorite breakfasts is a smoothie bowl. You can't go wrong and the flavor combinations are endless. My go-to is açaí with banana, granola, peanut butter, and a little chocolate sprinkled on top. These bowls take less than two minutes to make and definitely keep you full until lunch time.
Right now (11/5-11/11) you can purchase a TYLENOL® PM 100 count for $11.99 ($1.50 off with store card) at your local Walgreens to get yourself on the right breakfast track. You can even make a purchase simply by hovering over the product in the image below.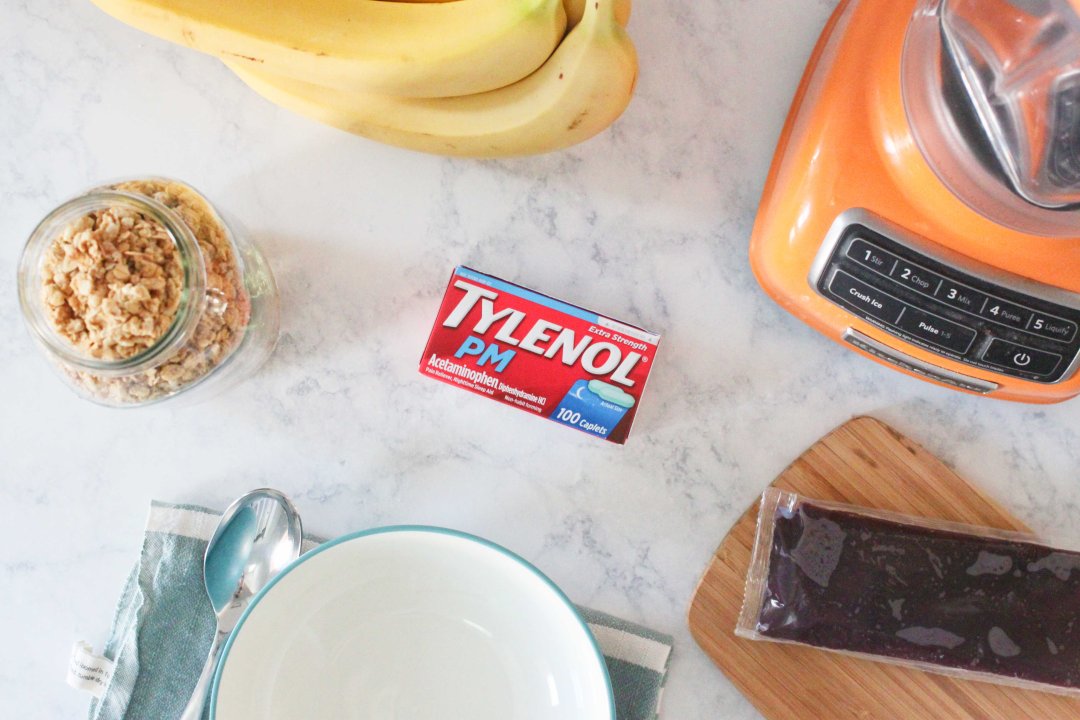 Ingredients:
- 1 single serve pack (100 gram) frozen, unsweetened açaí
- 1 banana
- 1/2 cup fruit juice (I prefer apple)
- 1/2 cup granola
- 2 tablespoons peanut butter
- 1/2 tablespoon grated dark chocolate
Directions:
1. Into a blender, combine açaí packet, about 2/3 of the banana, and the fruit juice.
2. Blend until smooth.
3. Pour into a bowl or mug and top with the rest of the banana (sliced), granola, a drizzle of peanut butter (I like to put mine in the microwave for about 10 seconds for easy drizzling), and a sprinkle of chocolate shavings.
Seriously, how delicious does this look?! It's so easy to make, and with just one less "snooze," I can make it in no-time.
What's your favorite way to start your day?
TYLENOL® PM contains a pain reliever and nighttime sleep aid. ©Johnson & Johnson Consumer Inc. 2017 The third party trademarks used herein are trademarks of their respective owners.